On Octo­ber 2, Brazil­ians went to the bal­lots to vote for pres­i­dent, state gov­er­nors, sen­a­tors, as well as fed­er­al and state rep­re­sen­ta­tives. In the pres­i­den­tial race, the cen­ter-left-wing for­mer pres­i­dent Lula da Sil­va from the Work­ers Par­ty (PT) received 48% of the votes, where­as the incum­bent far-right-wing pres­i­dent Jair Bol­sonaro from the Lib­er­al Par­ty (PL) obtained 43%. Accord­ing to opin­ion polls on the eve of the elec­tion, around 50% of vot­ers declared they would vote for Lula and around 35% for Bolsonaro.
Apart from the nar­row­er mar­gin of dif­fer­ence between Lula and Bol­sonaro, the fact that can­di­dates for gov­er­nors, sen­a­tors and rep­re­sen­ta­tives sup­port­ed by and sup­port­ing Bol­sonaro per­formed well above what the polls pre­dict­ed has sur­prised actors from pol­i­tics, acad­e­mia and the media. In São Paulo, Bolsonaro's can­di­date for gov­er­nor, who occu­pied the sec­ond place in the polls, received 42% of the votes, while the PT can­di­date (whom polls pre­dict­ed would take first) achieved 37%. In the states of Rio de Janeiro and Minas Gerais, Bol­sonaro sup­port­ers respec­tive­ly achieved 59% and 56% of the votes for gov­er­nor – which means they have already been elect­ed as the Brazil­ian elec­toral sys­tem only demands a sec­ond round when can­di­dates for exec­u­tive offices receive less than 50% of the votes.
For the sec­ond round of the pres­i­den­tial elec­tions, Bol­sonaro is count­ing on the sup­port of his tri­umphant can­di­dates for gov­er­nor in these three states, which are the three most pop­u­lous and wealth­i­est in the coun­try. In the states of São Paulo and Rio de Janeiro, Bol­sonaro in fact emerged from the first round with more votes than Lula. Lula, in turn, gath­ered sup­port from the pres­i­den­tial can­di­dates who end­ed up in the third and fourth places: Simone Tebet from the Brazil­ian Demo­c­ra­t­ic Move­ment (MDB) and Ciro Gomes from the Demo­c­ra­t­ic Labor Par­ty (PDT). The elec­toral map of Brazil shows that Bol­sonaro won more votes than Lula in the rich­er south­ern, south­east­ern and cen­tral states of the coun­try. On the oth­er hand, Lula had an advan­tage in the North­east and North of Brazil. For exam­ple, in the city I live and teach, Sal­vador, cap­i­tal of the north­east­ern state of Bahia, Lula obtained 67% of the votes and Bol­sonaro only 24%. This geo­graph­i­cal dis­tri­b­u­tion of votes between, so to say, the left and right is, per se, not a nov­el­ty in Brazil – it has been con­sis­tent since the ear­ly 21th century.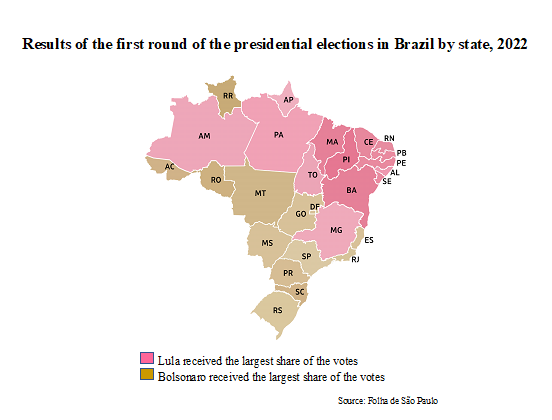 What is, how­ev­er, nov­el is the tec­ton­ic replace­ment of neolib­er­al forces – which, since the ear­ly 1990s fol­low­ing the re-democ­ra­ti­za­tion and the enact­ment of the new con­sti­tu­tion, have occu­pied the niche of the right – by the forces of Bol­sonaro and the polit­i­cal con­stel­la­tion around him that has been called Bol­sonar­ism. Those neolib­er­al forces were inter­nal­ly het­ero­ge­neous but grav­i­tat­ed around the Par­ty of Brazil­ian Social-Democ­ra­cy (PSDB), found­ed in the late 1980s by for­mer oppo­nents of the mil­i­tary dic­ta­tor­ship. PSDB ruled the coun­try from 1995 to 2002, with PT as the most impor­tant con­tender in the 1994 and 1998 elec­tions, while the lat­ter won the elec­tions between 2002 and 2014 with PSDB as their main con­tender. Since the 2018 elec­tions, how­ev­er, Bol­sonaro was able to present him­self as the polit­i­cal hege­mon with­in the field of the right and to gal­va­nize this lead­er­ship position.
Bolsonaro's pro­pa­gan­da is based on an engi­neered fear of the tri­umph of 'evil'.
The broad­er region­al divide pre­sent­ed above goes hand in hand with oth­er divides such as income and reli­gion. Like PSDB can­di­da­cies before, Bol­sonaro has more sup­port than Lula among the mid­dle and upper class­es nation­wide. Addi­tion­al­ly, Bol­sonaro draws sup­port from most Brazil­ian evan­gel­i­cal Chris­tians – a reli­gious seg­ment spread across dif­fer­ent church­es that has con­sis­tent­ly been grow­ing over the past four decades in the coun­try. Unlike the first group, the lat­ter is main­ly com­posed of peo­ple with low­er incomes.
Through the hands of pas­tors aligned with Bol­sonaro, evan­gel­i­cal church­es have worked as con­vey­or belts for Bol­sonar­ism among the poor­er, even though this income group pre­dom­i­nate­ly votes for Lula.
Bolsonaro's pro­pa­gan­da based on an affect of fear par­tic­u­lar­ly res­onates with­in these groups. This sen­ti­ment is, first and fore­most, an engi­neered fear of the tri­umph of 'evil'. Unlike in Europe or in the Unit­ed States, the issue of immi­gra­tion, which is often used for right-wing pro­pa­gan­da, is vir­tu­al­ly inex­is­tent in Brazil, mean­ing that threats to the integri­ty of the nation are above all con­sid­ered to be inter­nal. This 'evil' is rep­re­sent­ed by the umbrel­la con­cept of 'com­mu­nism' prop­a­gat­ed by Bol­sonar­ism. This con­struct rests on and nur­tures a moral pan­ic accord­ing to which the het­ero­sex­u­al fam­i­ly is in dan­ger of dis­so­lu­tion by a so-called 'gen­der ide­ol­o­gy' that seeks to turn young kids gay while Chris­tian­i­ty is under assault by 'dev­il­ish' prac­tices such as athe­ism or Afro-Brazil­ian creeds. 'Com­mu­nists' also attempt to engen­der unnec­es­sary divi­sions with­in the nation by address­ing the Brazil­ian colo­nial past of slav­ery, con­tem­po­rary racism and the lega­cy of the mil­i­tary dic­ta­tor­ship of 1964–1985.
Brazil­ian elites have opened a Pandora's box.
More­over, 'com­mu­nist' defense of social and eco­nom­ic inclu­sion and pro­tec­tion threat­ens mer­i­toc­ra­cy, that is, the sur­vival and advance­ment of the smartest and most hard-work­ing peo­ple. The mid­dle class­es, in par­tic­u­lar, have come to resent the empow­er­ment of the poor dur­ing the PT terms from 2003 to 2016: eco­nom­i­cal­ly in terms of access to goods and ser­vices as well as sym­bol­i­cal­ly due to the large expan­sion of high­er edu­ca­tion oppor­tu­ni­ties. The under­ly­ing mean­ing of the anti-PT mot­to 'I want my coun­try back' is that this access to goods, ser­vices and high­er edu­ca­tion should remain a priv­i­lege of a white elite – a claim that is a strik­ing exam­ple of what Aníbal Qui­jano calls the 'colo­nial­i­ty of pow­er'. Entrenched in a dis­course pro­duced by a coali­tion of media, par­ti­san agents of the judi­cia­ry and the oppo­si­tion in Con­gress that equat­ed PT with cor­rup­tion, the Brazil­ian mid­dle and upper class­es took to the streets in 2015 and 2016 to demand the impeach­ment of Work­ers Par­ty pres­i­dent Dil­ma Rouss­eff, which came to fruition in August 2016. As oth­er schol­ars and activists in Brazil, I des­ig­nate this event as a par­lia­men­tary coup: the twist­ing of legal pro­ce­dures to serve ille­git­i­mate ends. The charges against Rouss­eff did not evince any crimes, yet the pres­i­dent was nonethe­less removed from office.
By under­min­ing demo­c­ra­t­ic insti­tu­tions in this man­ner, Brazil­ian elites have opened a Pandora's box and the coun­try has sub­se­quent­ly had to deal with the beasts that emerged there­from. In line with the inter­na­tion­al trends, pol­i­tics with­in the Brazil­ian right-wing spec­trum has turned into anti-pol­i­tics under the lead­er­ship of an author­i­tar­i­an fig­ure. This has brought lies, con­spir­a­cy the­o­ries and emo­tions to the fore. In 2018, Bol­sonaro embod­ied the anti-PT can­di­da­cy in a polit­i­cal atmos­phere adverse to the Work­ers Par­ty. In 2022, in con­trast, after almost four years of strik­ing incom­pe­tence, dis­as­trous mis­han­dling of the COVID pan­dem­ic lead­ing to over 680,000 deaths, brutish state­ments includ­ing high dos­es of misog­y­ny, and wide­spread impov­er­ish­ment of the mid­dle and low­er class­es, it seemed that his author­i­tar­i­an affront to democ­ra­cy would be more eas­i­ly coun­tered. Polls have appar­ent­ly been unable to grasp the ulte­ri­or moves of Bol­sonar­ism, i.e. to cap­ture the unde­clared, silent vot­ing ten­den­cies of those who have learned in the past few years that 'any­thing is bet­ter than hav­ing PT back to pow­er'. After almost four years in pow­er and upon hav­ing re-struc­tured the field of the right in Brazil, Bol­sonar­ism has, to some extent, become polit­i­cal­ly nor­mal­ized and social­ly more ingrained. The Brazil­ian right has final­ly found a mass leader, one very dif­fer­ent from PSDB's elit­ist intel­lec­tu­als and tech­nocrats. These are some lessons that we can learn fol­low­ing the first round of the elec­tions in Brazil. If Bol­sonaro is elect­ed for a sec­ond term, he will be able to fol­low the steps of Vik­tor Orbán in Hun­gary and Recep T. Erdoğan in Turkey by chang­ing legal rules and rolling back democ­ra­cy – a process in line with what the Bre­men Research Group has called "soft author­i­tar­i­an­ism" – espe­cial­ly as he would have a large major­i­ty in both hous­es of the con­gress. The sec­ond round will take place on Octo­ber 30 and, in between, demo­c­ra­t­ic forces should make every effort to iden­ti­fy and learn from fail­ing to counter these new dynam­ics among the population.